Optoelectronic Materials
Optoelectronic Materials are Semiconductor Materials that have the ability to emit light. Silicon and Germanium are categorised as Indirect Bandgap Semiconductors and are inefficient light emitters / absorbers.
Direct Bandgap Semiconductors that possess strong absorption / emission characteristics are best suited for Optoelectronic applications such as:
LEDs

Laser Diodes

Photo Diodes

Solar Cells
Most widely used semiconductors for Optoelectronic device applications are compounds formed between elements of group III and group V of the periodic table also known as III-V Semiconductors.
Types of III-V Semiconductors include:
Aluminium Nitride (AlN)

Gallium Arsenide (GaAs)

Gallium Nitride (GaN)
Indirect Bandgap Semiconductors such as Silicon Carbide (SiC) can also emit light with impurities added into the material. This process is known as doping.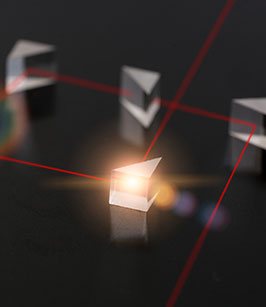 Typical Specifications and Properties for Optoelectronic Materials
Aluminium Nitride (AlN) Substrates
| | | |
| --- | --- | --- |
| AlN Material Properties | Typical Data | Unit of Measurement |
| Colour | Grey – Beige | – |
| Density | 3.25 – 3.30 | g/cm3 |
| Surface Roughness | 0.3 – 0.6 | µm |
| Bending Strength | 200 – 450 | MPa |
| Modulus of Elasticity | 320 | GPa |
| Vickers Hardness | 11 | GPa |
| Fracture Toughness | 3 | MPa.m½ |
| Coefficient of Thermal Expansion | 4.4 – 5.2 | 10-6 / K |
| Thermal Conductivity | 120 – 230 | W/(m.K) |
| Specific Heat | 720 | J/(kg.K) |
| Dielectric Constant | 8.7 – 9.0 | – |
| Dielectric Loss Factor | 0.2 | 10-3 |
| Dielectric Strength | > 15 | kV /mm |
| Volume Resistivity | ≥ 1014 | Ω.cm |
Silicon Carbide (SiC) Substrates
| | | |
| --- | --- | --- |
| SiC Material Properties | Typical Data | Unit of Measurement |
| Diameter | 50.8, 76.2, 100, 150 | mm |
| Thickness | 330 – 350 | µm |
| On-Axis Wafer Surface Orientation | (0001) ± 0.5° | Degrees |
| Off-Axis Wafer Surface Orientation | 4 | Degrees |
| Primary Flat Position | ± 5 | Degrees |
| Primary Flat Length | 15.9 – 47.5 | mm |
| Edge Exclusion | 1 – 3 | mm |
| Bow | ≤ 25 – 40 | µm |
| Warp | ≤ 25 – 60 | µm |
| TTV | ≤ 15 | µm |
| Resistivity | 0.015 – 0.028 | Ω.cm |
| Total Useable Area | ≤ 90 | % |
| Contamination | None | – |
| Scratches | 3 – 8 | Wafer Size |
| Cracks | None | – |
| Chips | None | – |
| Pinholes | None | – |
| Pits | ≤ 20 | – |
Gallium Arsenide (GaAs) Semi-Conducting Substrates
GaAs Semi-Conducting Material Properties

Typical Data

Unit of Measurement

Conductivity Type
P-Type / N-Type
–
Dopant
Si – Zn / Si
–
Diameter
2", 3", 4" & 6"
Inches
Thickness
225 – 650
µm
Wafer Orientation
<1-0-0> ± 0.5
Degrees
Carrier Concentration
(0.2 – 3.5) x 1018
(0.5 – 4) x 1019
cm-3
Resistivity
(1.2 – 9.9) x 10-3
Ω.cm
Etch Pit Density
< 500 – 3000
cm-2
TTV (P/P)
≤ 5
µm
DTTV (P/E)
≤ 10
µm
Warp
≤ 10
µm
Surface Finish
SSP / DSP
–
Epitaxial Readiness
Yes
–
Gallium Arsenide (GaAs) Semi-Insulating Substrates
GaAs Semi-Insulating Material Properties

Typical Data

Unit of Measurement

Conductivity Type
Insulating
–
Dopant
Undoped
–
Diameter
2", 3", 4" & 6"
Inches
Thickness
350 – 675
µm
Wafer Orientation
<1-0-0> ± 0.5
Degrees
Resistivity
106
Ω.cm
Etch Pit Density
< 5000
cm-2
TTV (P/P)
≤ 5
µm
DTTV (P/E)
≤ 10
µm
Warp
≤ 10
µm
Surface Finish
FS SSP – BS
FINE GRIND / DSP
–
Epitaxial Readiness
Yes
–
Gallium Nitride (GaN) on Sapphire Substrates
GaN on Sapphire Material Properties

Typical Data

Unit of Measurement

Conductivity Type
P-Type / N-Type
–
Dopant
Undoped – Si – Mg
–
Diameter
2", 4"
Inches
Thickness
4 – 20
µm
Wafer Orientation
C / 0001 ± 0.5
Degrees
Carrier Concentration
< 5 x 1017
> 1 x 1018
> 6 x 1016
cm-3
Resistivity
< 0.5
< 0.05
– 10
Ω.cm
Dislocation Density
< 5 x 1018
cm-2
Substrate Structure
GaN on Sapphire
–
Surface Finish
FS SSP – BS
FINE GRIND / DSP
–
Useable Surface Area
> 90%
–
Gallium Nitride (GaN) Free Standing Substrates
GaN Free Standing Material Properties

Typical Data

Unit of Measurement

Conductivity Type
N-Type / Semi-Insulating
–
Dopant
Undoped – Ge – Fe
–
Diameter
2"
Inches
Thickness
350
µm
Wafer Orientation
C / 0001 ± 0.5 OFF
Degrees
TTV
≤ 15 μm
µm
BOW
≤ 20 μm
µm
Resistivity
< 0.5
< 0.05
– 106
Ω.cm
Dislocation Density
105 – 3 x 106
cm-2
Surface Finish
FS RA < 0.2nm /
BS Fine Ground
–
Useable Surface Area
> 90%
–
Sapphire High Purity Single Crystal Substrates
Sapphire Material Properties

Typical Data

Unit of Measurement

Diameter
2", 4" & 6"
Inches
Thickness
430 – 1300
µm
Wafer Orientation
C-Plane to M-Plane / A-Plane
–
Orientation Flat Length
16 – 49
mm
Flat Orientation
A-Plane
–
TTV
≤ 5 – ≤ 15
µm
BOW
≤ 5 – ≤ 30
µm
Warp
≤ 10 – ≤ 40
µm
Surface Finish
FS RA < 3 A /
BS Fine Ground
–
Epitaxial Readiness
Yes
–